THE POWER OF SPOKEN and UNSPOKEN WORDS

Comments, What Others Are Saying... CLICK HERE

Buy the Book |OR| 2CDset ..... $15.00

SAVE - When you Buy the Book |AND| 2CDset TOGETHER

..... $25.00

Paperback: 116 pages

Publisher: CreateSpace Independent Publishing Platform; 1 edition (December 9, 2015)

Language: English
ISBN-10: 1519782535
ISBN-13: 978-1519782533
Product Dimensions: 5.5 x 0.3 x 8.5 inches
Shipping Weight: 7.2 ounces

Words are a very powerful force and it's extremely vital that you learn to choose them carefully. How you say something is as important as what you say - maybe even more important. Understanding the power of your words and when to use them effectively helps to minimize regrets and maximize results. Also, just because you can say something doesn't necessarily mean that you should. Understanding the subtle difference between words that help and words that harm can be overshadowed by emotions such as anger, hurt, bitterness and unforgiveness. Therefore, speaking out doesn't always mean it's beneficial. Perhaps most importantly, [continue reading]

OUR TIME IS PRECIOUS, USE IT WISELY



(Taught at

Gateway International Bible Institute

,Phoenix, AZ)

Time Savers & Robbers Item #TIP01TS ..... $12.00 (1CD)

New Beginnings/Waiting Patiently on God's Perfect Timing

Item# TIP02WP ..... $12.00 (1CD)

​

Parts I and II (English)

Item # IB(E)CD2

..... $15.00 (2CD)

Parts I and II (Bilingual) Item # IBCD3 .... $20.00 (3CD)

​

OUR TEARS ARE PRECIOUS

Item # OTPECD1

Parts I and II (English)

..... $15.00 (2CD)

Item # OTRCD2

Parts I and II (Bilingual)

.... $15.00 (2CD)

​

JRCF Series: ISRAEL'S HISTORY AND FUTURE DESTINY

Description: This teaching series provides an extensive overview of Israel's Historic Struggles and triumphs; it is compiled into five aspects including: Election, Dispersion, Preservation, Restoration and Reconciliation.

The complete compilation is currently being updated and will consist of at least 14CDS. Individual aspects of this course will be offered as they are produced.

CURRENT AVAILABLE ASPECTS:

Miracle of Israel's Preservation - Item# JRMPCD2 ..... $20.00 (2CD)

Worldwide Anti-Semitism - Item# JRWACD2 ..... $20.00 (2CD)

JRCF Series: ISRAEL'S ANNUAL HOLIDAYS, FEASTS & FASTS

Hanukkah, Festival of Lights -Item# JRFFHCD2

Main topics covered in teaching:

Prophetic, Political and Historical background of Hanukkah
The Jewish practice of Hanukkah
Special foods
Special games
Special storytelling
Special gift giving
Special lighting and laws of the nine-branched Hanukkah Menorah
The Messianic significance of Hanukkah and how it applies to the Christian

..... $20.00 (2CD)

ISRAEL'S SACRED SYMBOLS
Distinctive Dress and Appearance

This teaching provides insight and revelation into the symbolism used by the Jewish people. Through historic tradition, you will learn the symbol's corresponding spiritual and Biblical significance.

Current Teachings Available

Mezuzah and Head Covering
Hebrew –Kippah; Yiddish - Yarmulke - Item# JRJS02 ..... $20.00 (2CD set)

(Included in the Mezuzah and Kippah teaching:

Distinctive Dress: Black hats, Long black coats, Wigs and scarves for women. Distinctive Appearance: Beards, Side locks (hairstyle), Boy's first haircut.)

TEACHINGS BY PASTOR BRENDA KAPLAN

BREAKING DESTRUCTIVE LIFE CYCLES
and Living Victoriously

Item #BDLCD2....$15.00 (2CD)
ALL PRICES INCLUDE SHIPPING AND HANDLING.
Rabbi Gil Kaplan's life-long accumulation of knowledge and education is finally being released in these comprehensive studies, courses and revelations. Many more segments and compilations are being developed about Jewish origins, customs, traditions, types and shadows, symbolisms, and Messianic significance for Christians today. Please return often to view the latest available resources.
With these courses, you will learn about Jewish Roots of the Christian faith, Israel's History, Hitler's Holocaust and Worldwide Anti-Semitism, Preservation and Destiny, Symbolisms, Culture, Distinctive Dress and more. For a complete list of ALL teachings by Pastor & Messianic Rabbi Gil Kaplan, CLICK HERE.
We welcome your comments and thank you for visiting Builders of Unity!
RECOMMENDED READING: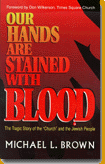 To gain greater insight to these Jewish Roots Teachings, we recommend that you purchase Dr. Michael Brown's Book "Our Hands Are Stained With Blood." Available On This Site Soon!
SHIPPING NOTE: All resources are sent from our Phoenix, Arizona location by pre-paid shipment via First Class USPS, Fed-Ex or UPS Ground depending upon weight. Allow 2 weeks for delivery. We prefer all transactions to be made securely through PayPal using our website.